The most commonly known incantation of Acro Yoga was started by Jenny Sauer-Klein and Jason Nemer in San Francisco, CA, in 2003. Now there are around 150 instructors world wide, and this number is growing with every new teacher training course.
Acro Yoga is a hybrid between acrobatics and yoga. There are many advanced poses in acro yoga, but often poses such as falling leaf (pictured below) are accomplished by beginners in their first class.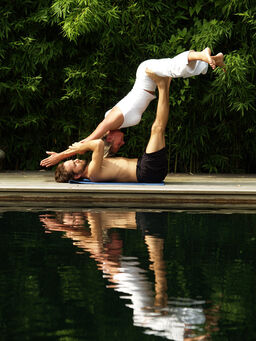 Ad blocker interference detected!
Wikia is a free-to-use site that makes money from advertising. We have a modified experience for viewers using ad blockers

Wikia is not accessible if you've made further modifications. Remove the custom ad blocker rule(s) and the page will load as expected.